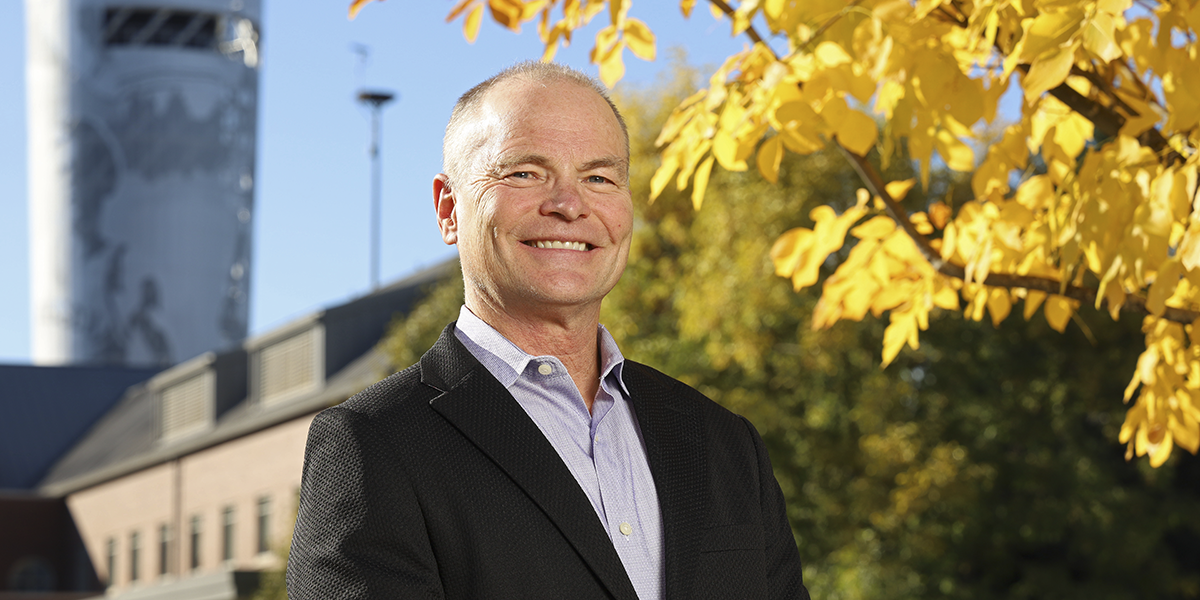 Pictured: Roger Worthington outside of Knight Law Center in Fall of 2021
It was the birds in toxic waste that spurred a turning point for UO donor Roger Worthington. When he was 16 years old, his family moved to Houston—far from the forests, rivers, and mountains of his Oregon childhood. He went on to attend the University of Texas, Austin, and worked summers as a boilermaker helper at the Exxon refinery in Baytown, Texas.
"During my third summer, I saw a bird land on a puddle, take a drink, fall over, and die. I said 'OK, that's it.' I quit and started volunteering for a law firm working on agent orange litigation. That's when I decided to become a lawyer."
Worthington went on to study law at UT Austin and in 1990 started a Dallas firm specializing in asbestos litigation. Since then, he's helped mesothelioma patients and their families win more than $2.5 billion in recoveries. His firm also contributes to organizations advancing mesothelioma research and asbestos cancer treatments.
Worthington's $600,000 gift to Oregon Law will launch a new effort to address another lethal environmental threat: climate change.
"This is an emergency," says Worthington. "It's not going to get better if we do nothing. And doing nothing is itself an action. The courts have to intervene and prevent runaway planetary warming.
"Americans have a constitutional right to a stable climate system that's capable of supporting human life. That's the bedrock of everything. To make the case to curb global warming, we need to advance the argument that excessive carbon polluters are violating our rights to life, liberty and property safeguarded by our Constitution."
Worthington's gift will support the law school's Environmental and Natural Resources Law Center (ENR Center) and the work of Mary Christina Wood, a Philip H. Knight Professor of Law. Wood's groundbreaking scholarship created the legal foundation for Juliana v. US, a landmark climate change lawsuit brought by 21 youth, through the nonprofit Our Children's Trust, against the federal government in 2015.
"I don't bring lawsuits," says Wood. "I research the law and develop legal frameworks that serve as a foundation for litigation. As Our Children's Trust continues fighting for the youths' day in court, their efforts are inspiring similar cases around the world. Some are coming out with decisive victories.
"As the first gift for this new initiative, Roger's seed funding is transformational. It delivers the support we need at this crucial period in time. The window of opportunity is slamming shut. This support allows us to turn legal analysis toward climate solutions."
Wood's analysis builds on decades of research and scholarship on the public trust doctrine, a legal principle with roots dating back to ancient Roman law. The principle obligates elected officials, as public trustees, to safeguard crucial ecology.
But as the growing ecological crises make obvious, she says, the trustees have failed to protect the rights of present and future generations.
Expanding on this scholarship, Wood is developing new strategies to force climate recovery. While carbon emissions need to go down, she points out, we also need to scrub the atmosphere of much of the legacy carbon that's already been released.
"Legacy carbon is driving the catastrophes we're experiencing right now," says Wood. "Megafires, floods, low snowpack, rising sea levels, hurricanes, drought—all those are fueled by present dangerous levels of carbon, not future carbon emissions. So we need to clean that up.
Mary Wood is affiliated with the UO's Environment Initiative, which focuses the intellectual energy and work of faculty members, students and community partners on working toward a just and livable future through transdisciplinary research, teaching and experiential learning. It is one of the UO's five Academic Initiatives that work across disciplines, developing the next generation of leaders and problem solvers.
Imagine an overflowing bathtub, she says. Of course, you turn off the spigot. But then you pull out the drainplug. Northwest ecosystems offer powerful natural tools for draining the proverbial tub.
"The only methods currently available are nature's own engines of cleanup. By harnessing those, scientists believe we can draw down and sequester significant amounts of carbon. Oregon has those resource engines for carbon drawdown. Foremost among those would be the forest."
In addition to holding leaders accountable, she says it is essential to make those responsible pay for an atmospheric cleanup effort.
Consider an oil spill in the ocean, says Wood. You can see it—and the obvious harm it causes. The government rushes to clean it up, then charges corporations to pay for those efforts. The climate crisis was created by the release of carbon into the sky, she adds. But there's no plan for cleaning it up and no framework of liability to charge for all that work.
"That's what we hope to create," says Wood. "A framework that government can use as a logical way to proceed. If there ever was a time for the law school to illuminate a promising direction for the law, it is now."
Wood feels personal urgency in her climate work: "I can't look my kids in the eye unless I'm doing all I can to secure their survival in the future. It's the primordial part of being a parent: protecting children—yours, mine, and all children. I couldn't be a parent and sit this out."
Worthington's gift will help Wood and the ENR Center create a framework for atmospheric recovery plans for Northwest forests, putting nature's most powerful carbon sponges to use. Oregon's agricultural areas, mangroves, wetlands, and grazing lands also offer rich opportunities to draw down and sequester atmospheric carbon, says Wood. Long-term plans include those too.
"We're tremendously grateful to Roger for his incredible vision," says Heather Brinton, director of the ENR Center. "This support will enable the ENR Center to focus on the potential for natural carbon solutions and atmospheric recovery in ways that haven't been possible.
"Oregon Law has a longstanding focus on innovation in environmental law and policy that spans more than 50 years. The entire university takes our responsibility to future generations very seriously. It's part of the UO's DNA. It's who we are."
Brinton adds that this research enhances the UO's Environment Initiative, a campus-wide effort to focus on the role of higher education in creating a just and livable future—one of five such academic initiatives that unite different disciplines to develop the next generation of leaders and problem solvers.
Wood and her colleagues in the ENR Center organize their plan into three separate, but related, parts. Wood describes them as three interlocking "gears," because they are all connected and don't follow a linear progression.
One of the gears envisions natural resource damage litigation premised on liability for the companies that pollute the atmosphere. Another gear is the "Sky Trust," a financial institution to manage and distribute funds obtained through that litigation to land managers willing to sequester carbon through innovative practices.
Finally, atmospheric recovery plans will provide ecological blueprints for conservation and resource management strategies that draw down and sequester atmospheric carbon. Funds from the trust will provide economic incentives for landowners and managers to implement the plans.
The hope is that—just like Juliana v. US—these blueprints will be replicated, customized, and applied, across the nation and around the world. Worthington's gift will put this gear into motion with a focus on the role of Northwest forests.
"There's amazing potential now during a climate emergency for Oregon's forests to be at the forefront of a solution," says Worthington. And he's inspired by the vision of Mary Wood and the ENR Center.
"America has been losing its competitive edge because we don't invest in basic research. By donating to the university, we're investing in research that could lead to valuable ideas, products, and services. I'm interested in basic research of a legal model that we can apply to help solve global warming."
–Ed Dorsch, BA '94 (English, sociology), MA '99 (journalism)
---
Roger Worthington lives in Bend, Oregon. His law firm, Worthington & Caron, PC, located in San Pedro, California, represents clients exposed to asbestos who have malignant mesothelioma. He's the owner of Worthy Brewing in Bend and Indie Hops in Portland, as well as president of the non-profit Worthy Garden Club.
https://law.uoregon.edu/Worthington-gift