JEFFERSON CITY — The Missouri House moved quickly Thursday to send a $4.5 billion midyear budget adjustment to Gov. Mike Parson's desk.
Within hours, the Republican chief executive signed the measure, which includes pay raises for the state's underpaid workforce.
"This bill not only gives our dedicated state team members a long overdue pay increase but also appropriates critical funding to our K-12 schools and child care system," Parson said in a statement.
The supplemental spending plan includes nearly $2 billion in federal emergency relief funds for the state's school districts, as well as gives Parson the authority to pass along raises to the 48,000 workers he oversees.
"I'm glad to see this getting across the finish line," said Rep. Peter Merideth, D-St. Louis. "I'm glad to see the Senate didn't drag its feet too long."
The measure zoomed out of the House on a 133-12 vote. It moved out of the Senate late Wednesday after languishing in the upper chamber for weeks because of Republican infighting.
The blueprint includes the money Parson requested to increase the base pay for state workers to $15 an hour and give a raise of 5.5% to all current employees.
Those raises could begin appearing on state paychecks for the March 1 pay period.
Lawmakers also earmarked money to pay the $1.5 billion cost of operating the Medicaid health insurance program through the end of the fiscal year on June 30.
The Legislature was working under a March 24 deadline to get the money for schools into the budget.
Democrats in the Senate had worked Wednesday to try and stop a Republican plan to carve Planned Parenthood out of the state's Medicaid program. But they relented in their effort on the belief the matter will be decided in a courtroom at a later date.
In a briefing earlier this week, Planned Parenthood said the GOP maneuver was illegal.
"In our eyes, it's a clear violation of both federal and state laws," said Yamelsie Rodríguez, president and CEO of Planned Parenthood of the St. Louis Region and Southwest Missouri.
Democrats also stood down from the fight because the overall package includes top priorities for them, including the money for schools and the Medicaid program.
Missouri ranks among the worst paying states for government workers. Some agencies are seeing massive turnover as employees leave for higher paying private sector jobs.
Hundreds of Missouri residents are crossing the Mississippi River to work in Illinois prisons and mental health facilities where union-backed government jobs pay significantly higher rates.
In response to the exodus, the Missouri Veterans Commission has had to limit how many veterans it can serve at its seven nursing homes.
The Department of Mental Health also faces a backlog of service, resulting in over 200 people needing treatment being stuck in county jails awaiting open beds.
Long wait times are common for people needing state services, ranging from food stamp benefits to health insurance.
Reversing Medicaid expansion
While Democrats praised the passage of money to continue funding an expanded Medicaid program, Republicans used their supermajority Thursday to muscle through a proposed constitutional amendment asking voters in November to reverse their 2020 decision to permanently expand the government-funded health insurance program.
The ballot question, if it also wins approval in the Senate, would ask voters to allow the program to be subject to annual appropriations by the General Assembly, potentially affecting health care access to 275,000 low-income Missourians.
The measure moved to the Senate on a 95-45 vote.
The proposal, if approved by voters, also would require the Missouri Department of Social Services to apply for a waiver from the federal government seeking to require adults who receive the health care benefit to have a job.
And the proposal would end a practice of paying health care costs of people from out of state who are treated in Missouri hospitals.
House Budget Committee Chairman Rep. Cody Smith, R-Carthage, argued the proposed constitutional change wouldn't necessarily cut all expansion costs. Rather, he said, it would allow lawmakers more flexibility to manage Medicaid spending.
Groups that had fought for expansion panned the plan.
"Expanding coverage for Missourians has been a long fought battle that included a ballot campaign in which voters approved expanded coverage and a lengthy court battle that upheld the voice of Missourians. The voters of Missouri and the courts have spoken, and they should not have to fight this battle again," said Emily Kalmer, government relations director for the American Cancer Society Cancer Action Network.
Originally posted at 10:57 a.m. Thursday, Feb. 24. Updated at 1:34 p.m.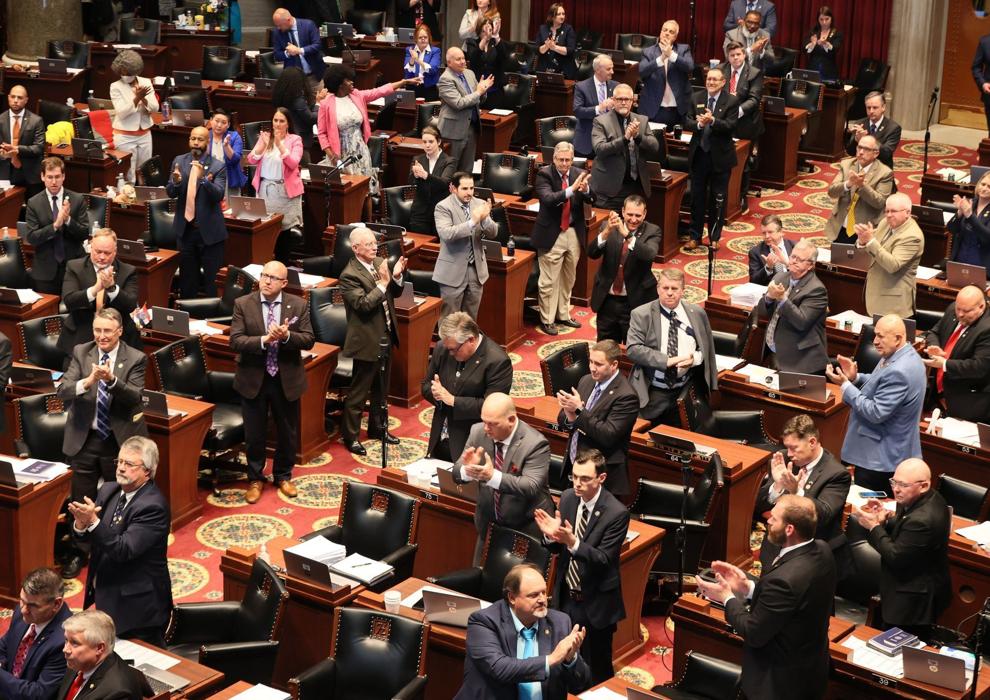 https://www.stltoday.com/news/local/govt-and-politics/money-for-raises-medicaid-expansion-and-schools-sent-to-parson-signed-into-law/article_866a5acf-d314-54fb-baa7-39d3fcf85ccf.html